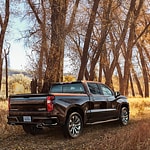 Chevrolet Silverado 1500 is one of the most comfortable heavy-duty truck models in the Chevrolet portfolio. This makes the ride worthwhile, thanks to its high-tech features. The truck's 8-inch touchscreen infotainment system puts everything at the driver's fingertips.
Bluetooth, Android Auto, and Apple CarPlay smartphone app integration are also included in the Silverado 1500's communication options. As an added convenience, the Chevy Silverado comes with a wireless charging station that eliminates the need for numerous connections on the dashboard. HD Radio and SiriusXM satellite radio are included in this truck's standard equipment.
The Bose audio system in the Chevrolet Silverado 1500 provides excellent sound quality. With its upgraded driver alert system, you won't miss any hazard that could cause an accident. These high-tech systems provide the driver an extra set of eyes and offers convenience and peace of mind when driving the truck in areas of poor visibility. These advanced driver-assistance features come standard with all the Chevrolet Silverado 1500 trim levels.