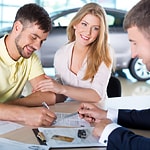 Tim Lally Chevrolet in Warrensville Heights, OH knows that buying a new car can be both exciting and stressful. A large part of the stress usually comes from working out the financing. We want to change that, however, and will start by defining some of the more common auto finance terms you will come across.
An auto loan is typically issued by a bank, and they are known as the lender. You, the buyer, will sign a contract that agrees to pay back the principal, which is the initial amount of money you are given to purchase a car. You will also agree to pay interest on that money on a monthly basis.
The APR stands for annual percentage rate. They can be fixed or variable, which is something you will want to pay attention to. A variable rate may be lower initially, but there is no guarantee that it will stay that way for the life of your loan.